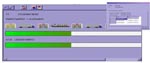 Customer: Wallenius Wilhelmensen Lines (NO), Port of Koper (SI), ELKEM (NO), BLG Automobile Logistics (D), ATG, John Deere, Volkswagen
Duration: March 2002 – February 2005
The portal aims at providing an advanced IT tool for Tracking and Tracing (T&T) load units/ transport means along either national or international intermodal transport chains.
This tool collects information about the position/status of the cargo or vehicle/vessel on which it is loaded, makes estimates and forecasts of various parameters of the trip (e.g. ETA, ETD, trip duration, etc.), generates deviations and alerts, and submits them back to the party responsible for the transport.
A network of 'Position Data Providers' communicates raw status data using different technologies from automatic provision by e.g. GPS modules or transceiver based equipment installed at terminal stations to electronic messages (EDI or other) originated from IT systems. Alternatively, manual means for the provision of status information are supported.
The solution can be adopted and used by any major actor involved in the planning and management of intermodal transport chains (e.g. forwarders and shippers) with no major adaptations to the legacy systems, as well as by any party interested in monitoring the progress of the transport.
Additionally, it significantly contributes to the development of viable solutions that increase the competitiveness of national/international transport.
Role of TREDIT:
– Design and development of the Freight Transport Monitoring System (FTMS)
– Interfacing of the Portal with the door-to-door Transport Chain Management System (TCMS)