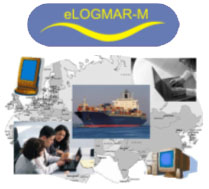 Customer: 6th Framework Programme – DG Information Society – IST Programme
Duration: September 2004 – September 2006
The idea of integrating expertise and knowledge through co-ordination activities is widely recognised as an important tool for stimulating the European research community.
The major aim of the eLOGMAR-M is to gather and co-ordinate activities in the field of IT- and Communication solutions (Web-services, GPRS and WAP/WML mobile services, simulation, technologies for information systems design, virtual reality) with maritime and logistics applications. The maritime freight route "Baltic Sea feeder ports – Western Europe hub ports (Hamburg) – Mediterranean ports – Chinese ports" is selected as the subject of investigation and demonstration.
The network of branch offices of the Baltic Regional Competence Centre in the field of advanced IT- and communication solutions and transport logistics will be established, covering the three Baltic countries (Estonia, Latvia and Lithuania).
The target groups of the project are forwarding companies, shipping lines, terminal operators and freight brokers.
One of the main objectives is devoted to the problems of setting up a collaborative partner pool, which unites organisations from different countries (Germany, U.K., Finland, Greece, Poland, Lithuania, Latvia, Estonia and China) operating within the selected transport route by means of integrating their electronic information resources (databases, information systems, Web-sites and portals) in collaborative work environment.
Another important objective is focused on new work methods for the mobile actors in logistics and maritime areas (traders, resellers, railway carriers, shippers, consignees, insurers, agents, forwarders etc.) providing them with advanced mobile services, such as WAP over GPRS, PC-connected Web surfing and mobile e-mail and chatting.
A set of collaborative activities will support the main objectives of the project: definition, organisation and management of joint initiatives; organisation of conferences and workshops; setting up of expert groups; exchange and dissemination of good practice.
Role of TREDIT:
– Analysis of logistics processes along the selected freight route (Baltic Sea feeder ports – Western Europe hub ports (Hamburg) – Mediterranean ports – Chinese ports).
– Formulation of the requirements for Web-based and mobile solutions to be applied in Mediterranean ports.
– Responsible for the demonstrator of Thessaloniki Port Authority.