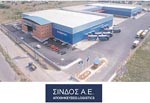 Customer: SINDOS S.A. Warehousing & Logistics
Duration: March 1999 – June2000
The Freight Centre to be developed is to face the lack of contemporary infrastructure for the rationalisation of freight flows in Northern Greece and the wider Balkan area.
The Freight Centre, of 18,000 sq.m. total covered area, besides its self-evident connection to the road network, will also be connected to the railway network via a private link.
Considerable access advantages are provided, with its location at a central spot of the Sindos Industrial Area of Thessaloniki in relation to the road and rail network.
The involvement of TREDIT in the project, includes the following responsibilities:
• development of the necessary planning and construction design studies (architectural, static, electrical, etc)
• construction management (including financial, technical and administrative management) of the project
• consulting services support, to the organisational and operational aspects of the freight centre (logistics management)
The total budget of the investment will reach the amount of 9 million Euros, partly EU funded.
Role of TREDIT:
– Management of the Freight Centre's development