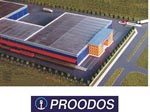 Customer: PROODOS S.A.
Duration: March 1998 – September 1998
The project was developed on behalf of the largest South East European Intermodal transport forwarding company (PROODOS SA), partly owned by Kuehne & Nagel
The Freight Centre to be developed is to face the lack of contemporary infrastructure for the rationalisation of freight flows in Northern Greece and the wider Balkan area. Within the contact of the Business Plan, the term "infrastructure" is not confined to its classical meaning of warehousing space, but extends beyond this, to the development of "technological" and "organisational" infrastructure.
The Business Plan covered the following areas:
• development of the business idea
• assessment of the potential market for integrated third party logistics services
• site layout design
• physical and informational configuration of the Freight Centre's operation, including the assessment of required warehousing space, and the selection of handling and storage equipment
• assessment of infrastructural needs in terms of Information Technology requirements
• assessment of manpower requirements
• estimation of the company's investment and operational costs and revenues within a five-year period (profit & loss account, balance sheet, cash flow analysis, etc).
The total investment reached the amount of 3 billion drachmas (approx. 9 million ECUs).
Role of TREDIT:
– Business Plan Developer