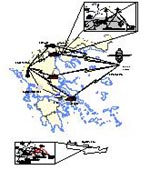 Customer: ΑΝΚΟ S.A.
Duration: January 2004 – December 2005
This project aims at designing and implementing state of the art telematics solutions for the automatic monitoring of cargo/vehicles in the context of Hellenic Railways Organisation (HRO), Thessaloniki Port Authority (ThPA) and Heraklion Port Authority (HePA) operations, which constitute major representatives of the Greek transport industry.
For HRO, an integrated system including an open e-freight communication platform between the Organisation and its partners/clients, an INTERNET based train composition functionality and an advanced DGPS/GPRS monitoring system will be interconnected allowing the real time and electronic control of the train at a network level. The communication platform will facilitate the cooperation with other partners in the chain (ie ThPA) as well as the dissemination of status information to the clients regarding the progress of their shipment.
For ThPA, a series of sensing technologies will be installed at the key container handling points of the terminal for the automatic positioning of the ITUs. In particular, Optical Character Recognition (OCR) at the terminal access points, RF and transponder technology onboard the terminal equipment (straddle carriers and transtainer) and DGPS onboard the straddle carriers will be the technological basis for the monitoring systems implementation.
An e-Freight INTERNET based system will be established in HePA for electronic transactions between the port and its wider society, a "smart" optimisation and control application will be developed providing all required inspections and guidance for the prompt undertaking of the internal both physical and administrative logistics of all kinds ITUs handled by the port. A mobile RF system will be used for the registration of the activities taking place in the terminal area.
Role of TREDIT:
– Analysis of present situation
– Operational model
– Functional specifications