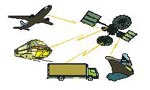 Customer: Ministry of Development / secretariat of Research and Technology
Duration: September 1998 – September 1999
The objective of this study is to define the priorities to be given in the technological policy of Greece for the following years, in order to increase the competitiveness and the viability of the Greek Transport enterprises. The study starts with a questionnaire survey in order to collect information for the companies/authorities that are involved in the R&D in the fields of transport. The introduction of the collected data in a data base structure and the development of a software for further elaboration and use of data creates an operational data base.
Further on, the different technologies that can be applied in the fields of transport in the next 10-15, have been classified according to their application area (i.e. type of company/enterprise) and the transport mode. The next step taken was the formulation of scenarios regarding the technological options that the transport enterprises have according to: the current status of development of each technology, its further deployment and penetration rate in the years to come.
Within the scope of the study was the definition of the basic elements that contribute to the viability of the transport enterprises, and to perform a feasibility study to typical enterprises of each transport mode. The study has also identified the implications (quantitatively and qualitatively) that the application of each of the specified technology has at each type of transport enterprise. The study is concluded with the definition of the priorities regarding the technological policy that must be followed in the transport sector in the next ten years. The priorities have been set having as main objective to maximize the benefits to the companies / authorities that will use them in conjunction with the penetration rate of each technology to the market.
Role of TREDIT:
– Scenario formulation
– Assessment of the impacts of the technological applications in the competitiveness of the enterprises